Security guards can protect your site, your staff, and your inventory. A visible security presence will help reduce vandalism, theft and antisocial behavior that occurs around your premises, and fully trained personnel effectively respond to any situation.
We provide our clients with on-site security officers who:
Monitor and authorize entrance and departure of employees, visitors and vehicles to guard against theft and maintain security of premises;

Operate detecting devices to screen individuals, assets and prevent passage of prohibited articles into restricted areas;

Inspect and adjust security systems, equipment, and machinery to ensure operational use and to detect evidence of tampering;

Patrol industrial and commercial premises to prevent and detect signs of intrusion and ensure security of doors, windows and gates;

Answer alarms and investigate disturbances;

Call police or fire departments in cases of emergency;

Write reports of daily activities and irregularities.
When applying for a security guard job, applicant have to pass: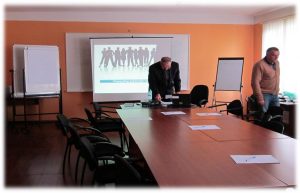 Background check
Criminal record check
Medical check
English level test
After selecting candidates, they are subjected to appropriate trainings to perform their duties: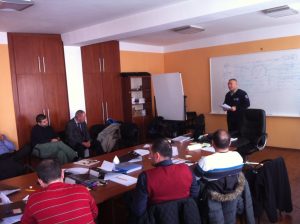 Radio communication training
First aid training
Fire-fighting training
Emergency response training
Bomb threat and detection training
The company equips the employees with: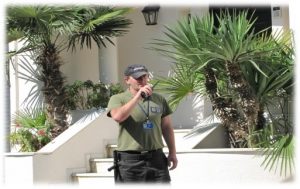 Security guard license
Security badge
Insurance
Uniform
Equipment (Belt, Baton, Handcuffs, torch, radio, Cell phone)
We can say with pride that,
75 % of employees are involved in sport and have basic skills in martial art;
80 % of employees speak English, rest of them speak Russian, German, Italian;
92 % of employees have a high education diploma or still are students;
100 % All guard are trained in First Aid & Fire Fighting and have efficient experience in this field;